Confession time.  I've always wanted to paint an upright piano!   It's hard to find a good candidate because most upright pianos* I've seen are really nice and ones that I would hesitate to paint because of it. 
But fortune smiled upon me a few months ago when my friend and I were discussing sprucing up her new home.  She wanted to keep her old upright so her children could take lessons and learn to play, but she was not fond at all of the cherry finish, it just didn't match her style at all. 
So when she mentioned she was torn about keeping or selling her piano because she didn't like its dark and scratched surface, I casually mentioned to her that I could paint it for her – that seemed the perfect solution. 
After I got the thumbs up, I made a few visits to her house over the course of a week to paint it while she was at work, and she now has a freshly painted white piano at the base of her entry staircase.  And she loves it.
*technically a "spinet" and not an "upright" thanks to a few readers letting me know!
I know there are a lot of people who consider painting a piano somewhat controversial but rest assured, this one wasn't an heirloom.  I subscribe to the belief that you should make the things you own work for you, for your tastes, and for your lifestyle.  Life's too short not too!   Since she wasn't crazy about the cherry finish in her house, especially up against the oak wood stairs, I suggested a fresh coat of white paint.  Here is the piano before it was painted.
A fresh coat of white paint and a striped upholstered seat were the keys to achieving the coastal style she loves and the freshened piano now suits her tastes.   
I've mentioned before my favorite paints for furniture, and in this case the AS Chalk Paint was the perfect choice.  I could paint the piano indoors and skip the priming – the 'Old White' is a beautiful soft white and I've used on both a console table and night stand.  I have a local stockist, but you can also buy it online from Shaunna's shop!
No priming is a really nice bonus when painting a piano – you never want to damage the keys or the interior so I worked slowly with a good Purdy brush (and a small artists brush near the keys).
A note on preparation, I've learned the hard way over the years that skipping steps can backfire so when doing any painting project or furniture makeover, so be sure to follow the steps necessary.  Whether it's wearing a respirator mask while spray painting or testing for lead before you strip paint off an older piece, taking those extra minutes to properly prepare for the next step in any paint makeover is so important.  Safety and preparation are always key to any beautiful result!
In this makeover, the pedals and the feet of the piano had a beautiful brass finish, so I used the 3M Edge Lock tape to protect them.  I've used this tape for the past six months (like on this striped dresser) and it's a new favorite for getting crisp lines when painting stripes or protecting the details or edges of furniture you don't want to paint. 
On the top and the frequently touched surfaces, a coat of clear wax protects the paint. I apply it with a soft rag then buff it out for a smooth finish.
The final details included replacing the previous bright gold knobs with more delicate glass versions, and recovering the bench in an appealing stripe with a layer of 1 inch foam underneath for comfort. 
I snapped a few shots of it yesterday as my boy ran up to his friend's room. 
Thankfully the makeover (and especially the new cozy seat!) meets with the approval of the most opinionated family member, Sissy.  
And that's the story of how an old family upright piano became an elegant focal point for this sweet family!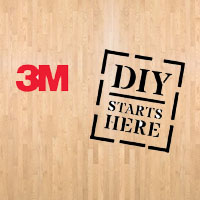 This post sponsored by 3M brand.  All opinions are my own. Build your safety toolkit by entering to win more safety products at the 3M sweepstakes.  
Have a great weekend everyone!
.