Hello friends.  I need your help !  I was honored to be one of the weekly winners in One Project Closer's Before & After 2009 contest supporting Habitat for Humanity.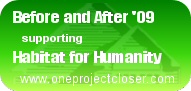 Our July staircase transformation was one of the weekly winners.  Remember all of the sweat that went into revamping our foyer?  Remember how I took our blonde oak ordinary staircase and gave it a fresh modern design? 
Before:
After:
Remember how I stripped, sanded, stained, painted and polyurethaned the banister to give it this espresso finish? 
Before and After:
Up close:
Read the entire article about our staircase transformation here. 
But oh, I didn't stop there! 
I also added a chair rail, panel trim, and a wallpaper treatment up the stairwell.
See?
Here I am, attaching those panels by hand.  Whew!
Read the wallpaper treatment article right here.
Now the voting has begun !
If you're impressed with this transformation, well I could sure use your vote ! 
Click on over to One Project Closer to check out all of the entries.  And place your vote right here.   The best part about this contest?  One Project Closer donated $490 to Habitat for Humanity in honor of all the winners. 
Now get on over to One Project Closer and rock the vote !   Thanks friends.